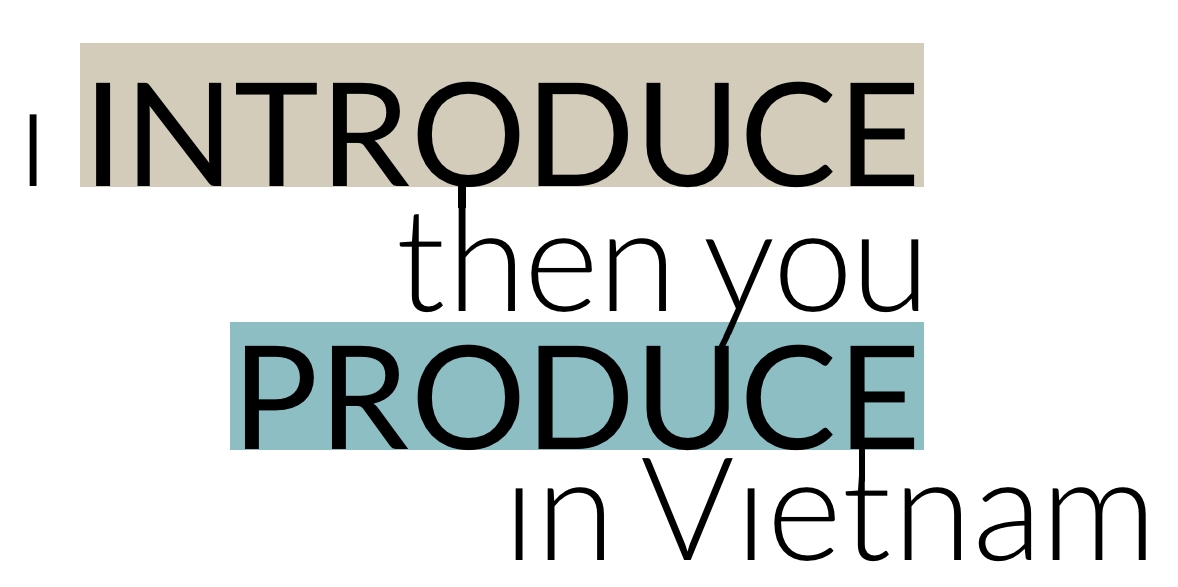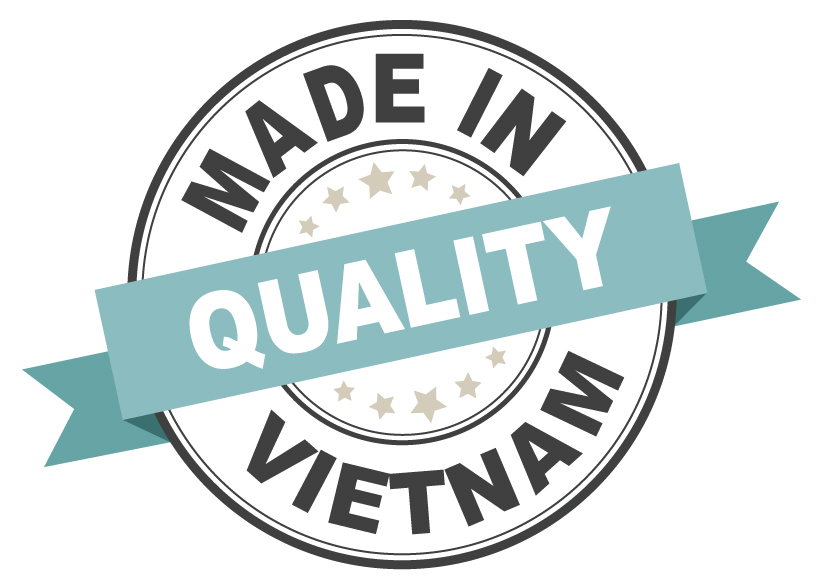 How Can We Work Together in Vietnam?
Hi, my name is Chris and I built this webpage. I have been working in the Vietnam Garment Industry since 2008. My expertise is advising fashion start-ups. I also introduce established brands to factories making non-apparel items like custom kitchen cabinets. Vietnam is small and my network of factories is wide. Let's talk about growing your business by manufacturing in Vietnam.

I built this webpage for two friends of mine. Mike and Andy. Mike is an expert custom kitchen cabinet carpenter and Andy is a kitchen cabinet factory owner. I can introduce you to both of them. We can help you produce kitchen cabinets in Vietnam.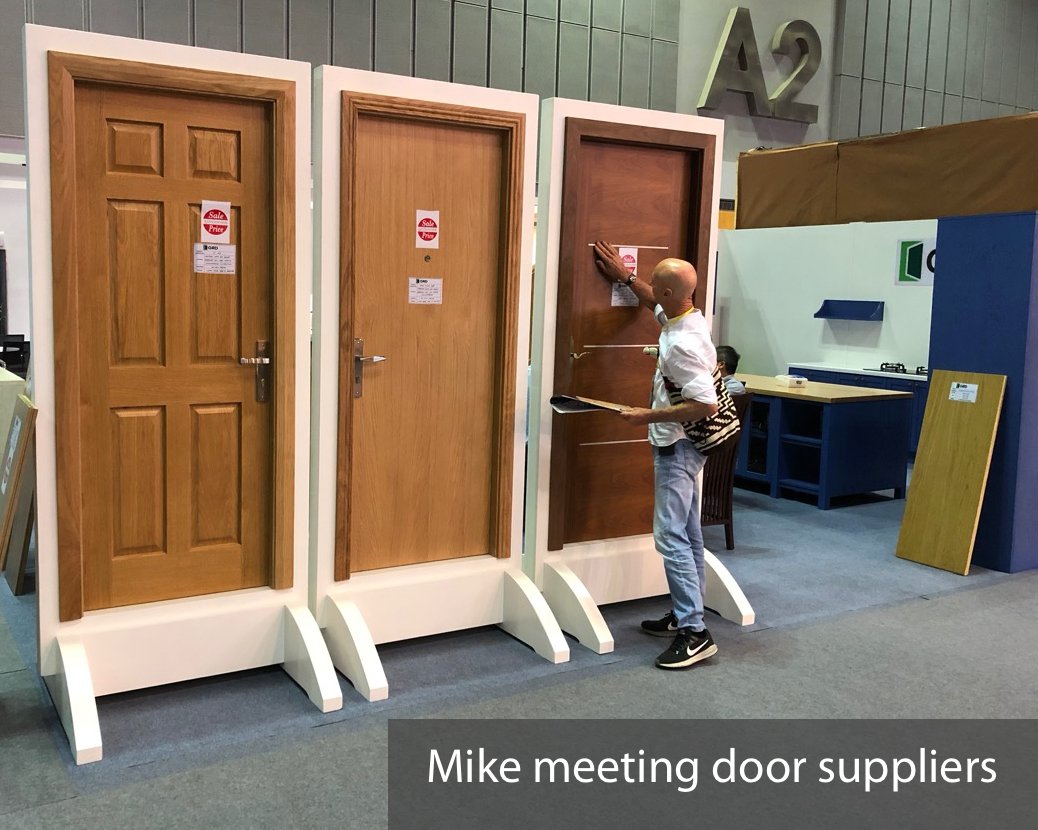 Pacific Craftworks (PC) is a kitchen cabinet factory in Vietnam located in Binh Duong, one-hour drive north from Vietnam's biggest airport in Ho Chi Minh City. The owner, Andy, started his custom cabinet business in Hawaii and built the factory in Viet Nam in 2005. The factory is fully equipped and self-sufficient. It has kilns for the controlled drying of woods, cutting equipment for logs, computerized cutting machines for laminates and computerized spray painting guns in climate controlled sealed rooms. PC exports all over the world and attracts clients such as luxury home owners and high-end building contractors. Would you like to contact one of the best kitchen cabinet factory in Vietnam to get a free price quote or design help? Mike and I can help. Mike is my friend who is an expert in kitchen cabinetry design and installation in Vietnam.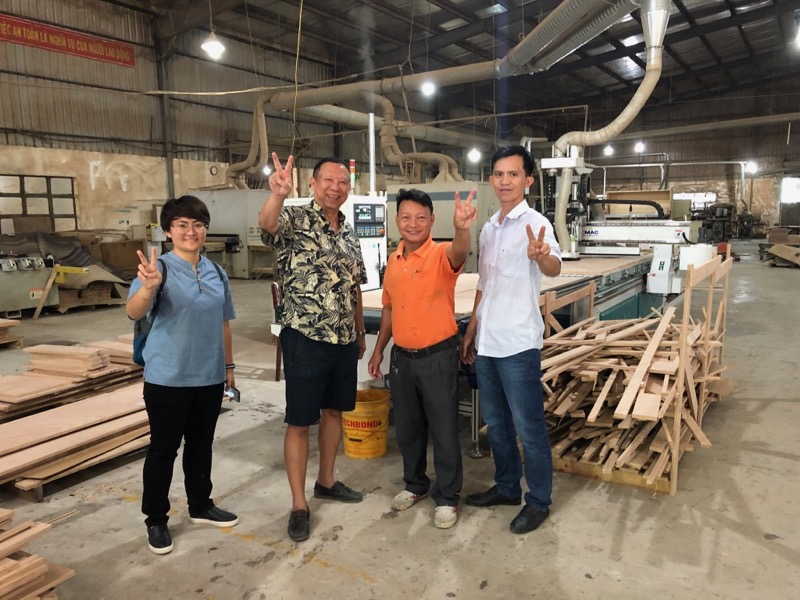 Chris Walker
Ho Chi Minh City, Vietnam
VSource Co., Ltd.
PC Specializes in Kitchen Cabinets
PC is wood furniture factory in Vietnam that specializes in kitchen cabinets, vanity cabinets, closet cabinets, and cabinet doors. They will match tables, chairs, counters, handles, glass and appliances to deliver a complete and professional solution. Their clients typically need help with design layout, style, color, tone, and wood selection. PC has staff in Vietnam and the US that will visit you to carry out a thorough design assessment. They will take measurements, note room sizes, ceiling heights, adjoining wall angles, plumbing and electrical fixtures. Your refrigerator, stove, sink, dishwasher, kitchen hood, ovens and counter-top workspaces will harmonize perfectly. With PC's experience, you will get your practical and beautiful kitchen made in Vietnam.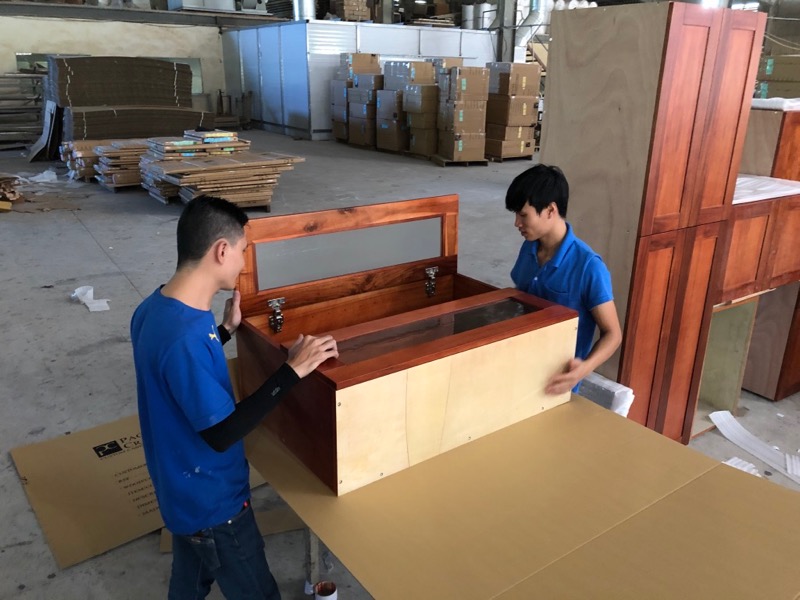 Kitchen Cabinet Material Selection
PC can source any of the world's best available woods such as teak, oak, ash, walnut, and mahogany; or local woods such as acacia and rubber tree wood. They will select your wood with the best grain, texture and color. The company will provide you with the proper certificates of origin of their woods or (if requested) they can source from the world's most accredited wood suppliers like Haberlein in Germany. Without this Certificate of Origin, many countries will charge higher tax, or not even allow the import/transportation process.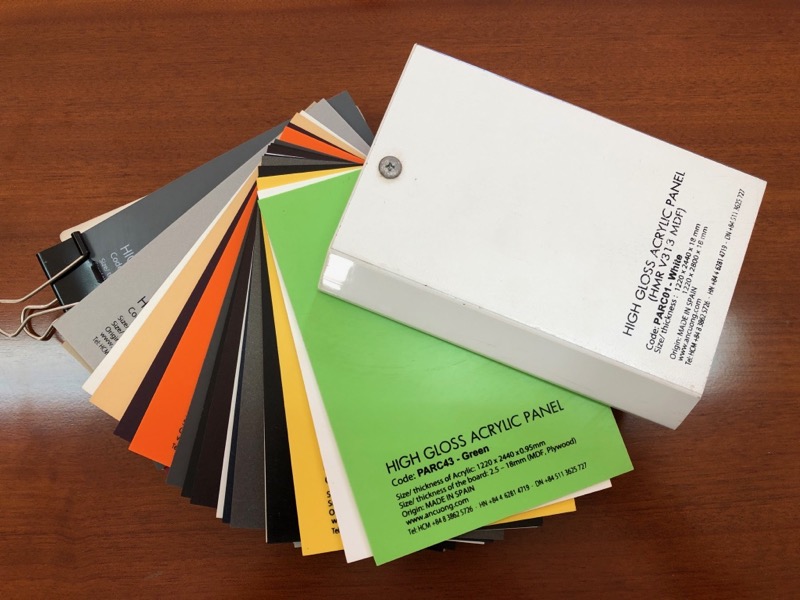 Painting Kitchen Cabinets
Not all cabinets are requested with a natural wood finish. Many architects and ID companies require their finished cabinets to be a certain colors and tone. PC can comply with the best 2-pack paint finishes sprayed on cabinet doors made either of wood or of top quality MDF board. The factory has sealed rooms in which temperature and humidity are tightly controlled, in order to maintain the highest standard of painted finish, which can be matte, semi-matte or high gloss.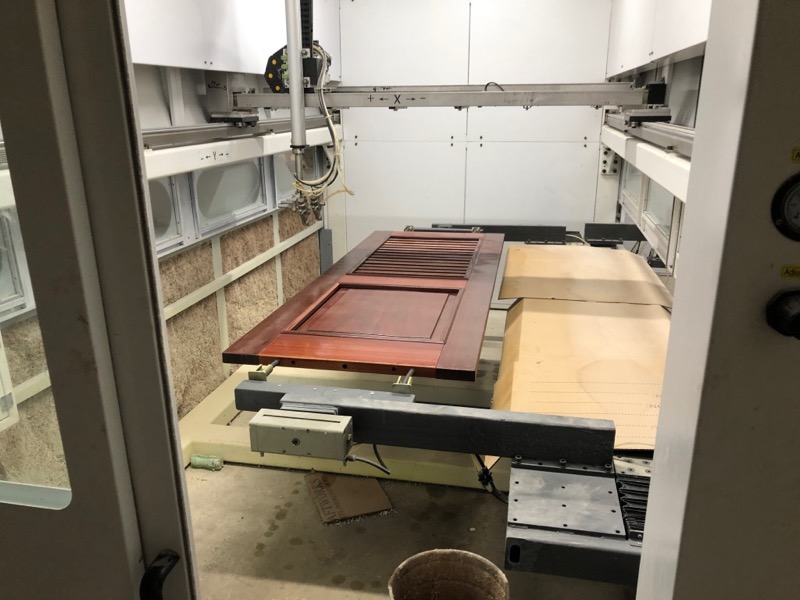 MOQ, Capacity and Kitchen Cabinet Production Time
PC's factory in Binh Duong has 400 skilled workers. They produce up to 20 x 40ft containers per month. Many workers live with their families in quarters on site and can work overtime to meet delivery dates. PC's minimum order quantity (MOQ) can be as low as one kitchen. Production time is three weeks for a single custom-built kitchen. It takes two weeks to take delivery of the wood if not in stock. One week is required to finish the kitchen construction. Freight and shipping requires 30 to 45 days and final installation takes two days. Production lead time starts after the design is approved and deposit is paid.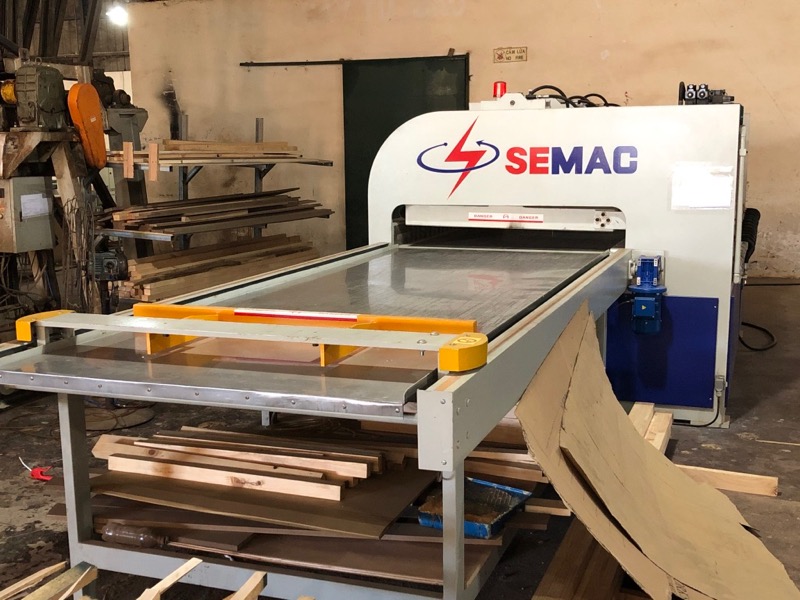 Kitchen Cabinet Project Management
PC offers a complete service that includes planning, design, manufacturing, shipping/freighting, installation, consultancy, and project management. They work with your detailed drawings and specifications, or they can create their own drawings and specs based on your functionality, style, accessories, wood and color requirements.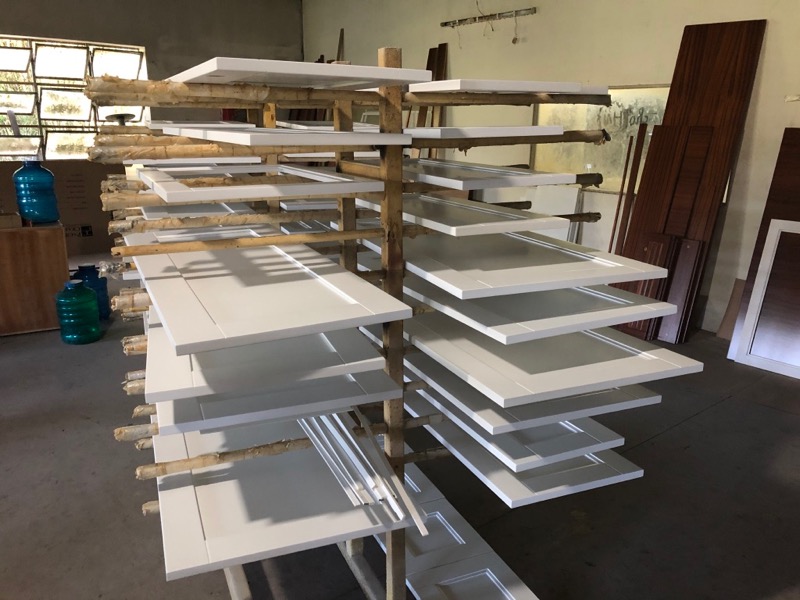 Strict quality control is exercised during factory production and site installation. Control parameters include visual inspection of all wood to be used, checking wood humidity, measuring within a quarter of a millimeter, testing door hinges and sliding drawer mechanisms so that they close silently and tightly to perfection (they all use the "soft-close feature".) The final inspection stamp is given before leaving the factory. PC uses professional packaging to prevent any damage during transport of kitchen cabinets from Vietnam. The final testing and commissioning of all ovens and kitchen appliances is part of the quality control procedures.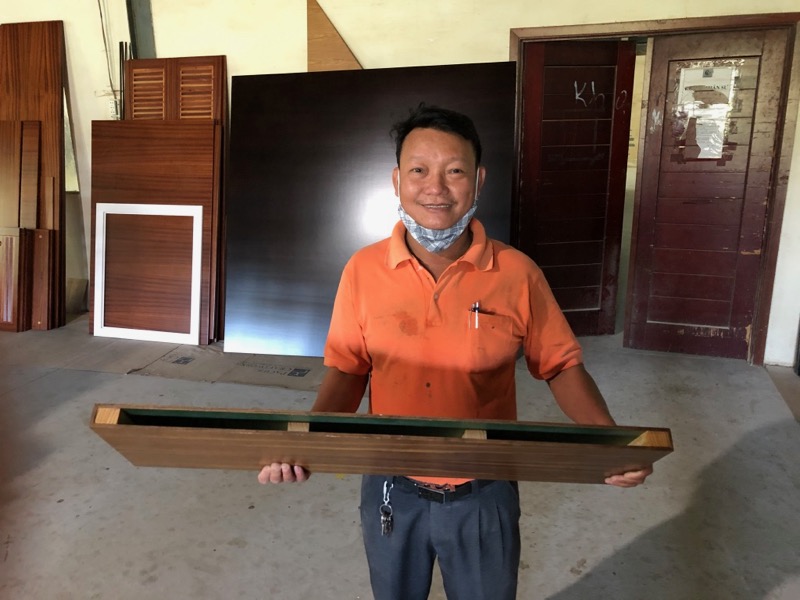 PC uses state of the art cabinet joining options. For example, there are no quick-fix alloy brackets using alloy screws in 3 dimensions to join a chair or a table to its 4 legs. This factory will use the old fashion mortice and tendon for legs and joints, and it will use dovetailed joinery in all drawers and boxes to achieve meticulous and beautiful joinery your kitchen cabinets.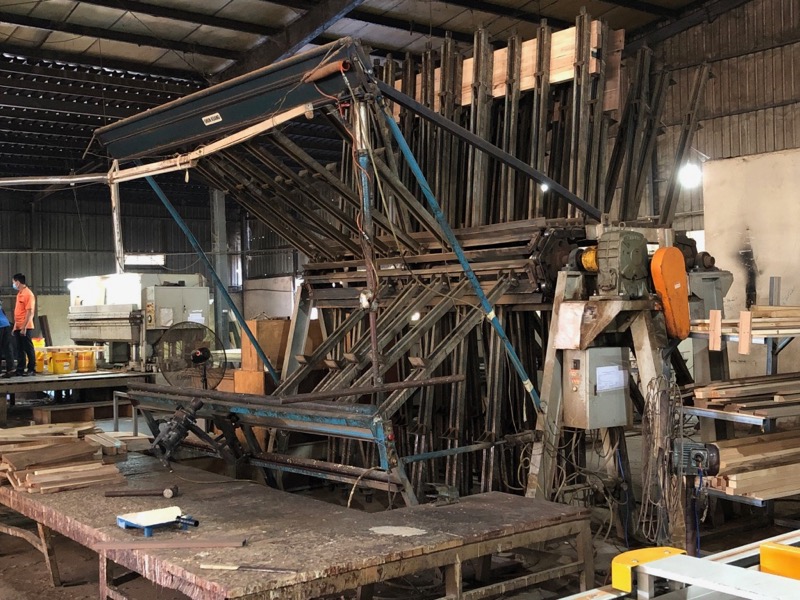 PC also offers custom-built smart furniture to create space in your home. They transform your existing kitchen into a beautiful and more functional work/living area. Smart Furniture is custom built furniture with multifunctional use. For example, PC has smart executive tables that convert into luxury beds or sofas at the end of the day. This has become particularly pertinent today with smaller spaces being constructed in modern crowded cities. PC sees this part of their business growing quickly, and has access to the leading international brands of spring and hydraulic mechanisms used in smart furniture. They also have their own R&D section to innovate more as required by you the client.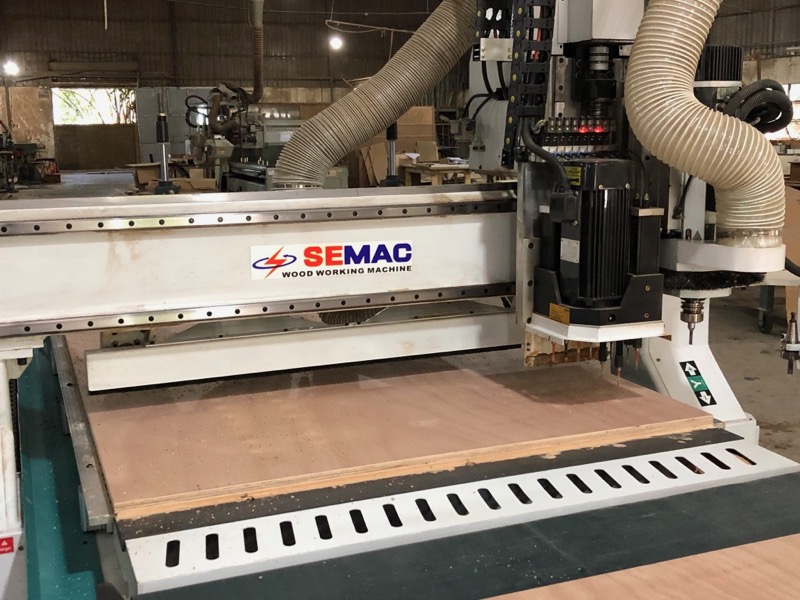 Contact one of the best kitchen cabinet factories in Vietnam today!
PC can manage your project from design to installation or just manufacture according to your drawings and let you be responsible for installation. On larger projects, a PC project manager will be available to liaise with the customer and coordinate materials, production and sub-contractors.

Please give me details about your background and manufacturing objectives.

1. Which styles do you want to manufacture first?
2. Do you have tech packs?
3. Do you have any special factory requirements?
4. Have you produced before? If yes, then in what country?
5. What quantity per style per color do you order?
6. Does your company have a website?
7. Do you want to work with an agent or directly with the factory?
8. Do you plan to visit Vietnam?