"Chris & Tham were very welcoming and introduced me to their expert team members. I give the Calendly Skype chat with Chris a 10/10. He asked the right questions and was genuinely interested in our needs."
Sourcing Company in Vietnam
Hi, my name is Chris, I am an American living in Ho Chi Minh City. I work with Tham who is a sourcing expert in Vinh City. Our sourcing company in Vietnam introduces you to factories and prepares you to work directly with them.


Are you an established brand or start up?
Do you have a product you'd like to produce in Vietnam?

We'd like to hear your story and help you.
Who I am and what I do for you
A printing company in Vietnam
16 Things to prepare before contacting a garment manufacturer in Vietnam
Chris has attended multiple garment trade shows around the world where he had met fashion designers who want to start their own brands. He has also answered hundreds of emails from entrepreneurs investigating apparel manufacturing in Vietnam. He's connected online with sourcing professionals eager to find reliable sewing factories in Vietnam. They all face language barriers, cultural barriers and high minimum order quantities. In some cases they lack a basic understanding of what factories need in order to quote a price. He wrote
this book
to address all these issues and share all his insider tips to guide you as you bring your fashion dream to life, producing in Vietnam. He also established a sourcing company in Vietnam to assist established businesses.
I was very satisfied. Chris & Tham were very welcoming and introduced me to the other staff members in their office which was nice. I would give the Calendly Skype chat with Chris a "10/10". The reason for this was he was asking the right questions and very interested in what we were doing. I felt very comfortable during the call, we are looking to work with Chris and his colleagues in the near future. I really couldn't fault the call at all.
Chris was prompt returning my calls and very professional.
We are totally satisfied with the Skype call we have with Chris Walker. As we discussed with him we are developing our project in the way to be able to come to Vietnam and start the sampling and production with the manufacturers that you will suggest us. Actually we talked only about the workout gear project, but we have some other projects such as dress shirts and underwear and overcoat... . We will update you as soon as we decide with which projects we would like to start with you and we will update you about our requirements and tech-packs and details. Thank you for being available! We appreciate that!
Nikoo Karimian Azary, Vocier
We have read parts of your 'Guide to Producing Garments in Vietnam' and have found it to be extremely detailed and informative… providing information that one would otherwise only gain over time and by 'trial and error'.
Toby Andreassen
Very in depth! So much information. If you are looking for help on how to produce garments this is your book!
River Davis
I did not expect to find so many hard facts backed up with real contacts for products and services in the industry. Usually people do not give away easily this hard earned information which is garnered over many years of work.
Brian Darby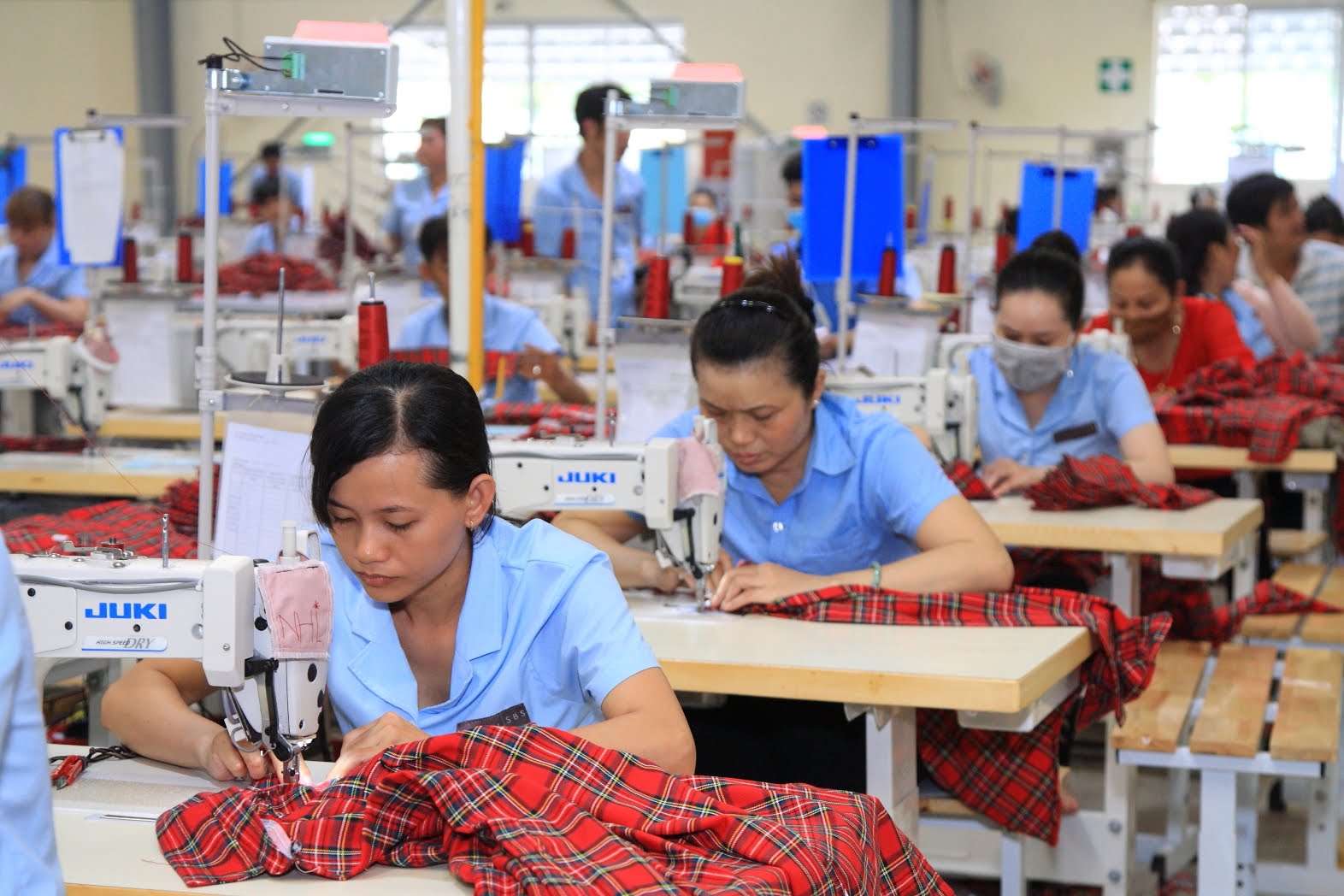 Apparel Production Advisor in Vietnam
Chris Walker
is an American living in Vietnam. He grew up in Germany, worked on a Submarine and landed in Vietnam to learn about manufacturing to serve brands around the world wanting to produce in Vietnam.
He moved to Vietnam in 2008 to settle down and learn business from the point of view of manufacturing. All his life was spent in consuming countries so he was pleasantly surprised when he discovered how things were made and started helping others who wanted to produce their products in Vietnam. He started working in an apparel factory which is his strength and why he wrote a book called
Guide to Producing Garments in Vietnam
under his brand Vietnam Insider. Now he establishes a sourcing company in Vietnam with Tham Cao and their team helps in sourcing factories or raw materials and aim in making realize the dreams of their customers.
He shared a lot experience about how to import and source from Vietnam through different online channels.
Apparel & Non-Apparel Sourcing Assistant in Vietnam
Tham Cao
was born and raised in Vietnam. She graduated from Hanoi University, holding a bachelor degree in English language.
She started helping foreigners do sourcing in Vietnam in 2008. She has a lot of experience doing SEO, paid advertising, analytics, market research, translation and other administrative tasks.
She met Chris in 2017 during Chris's trip to Nghe An province, her hometown. Both Chris and Tham share the same thought that they like helping either start ups or professionals source good price and quality products in Vietnam, helping them avoid first timer pitfalls. That's reason why they set up this sourcing company in Vietnam.
The company provides services to various buyers, brands and also manufacturers to establish themselves in Vietnam.
Vietnam Insider aims to be the leading sourcing company in Vietnam.
Sourcing in Vietnam Services
7 STEPS TO GETTING FACTORY INTRODUCTIONS
1. You send us your request for product details and factory requirements

2. We confirm that factory introductions is the cost effective solution for you; or explain our other services

3. We check our database or ask around our network to identify the right factory for you

4. We describe the factory to you

5. You pay our service fee

6. We give you the factory contact details and you contact them directly

7. We standby to assist you further with quotation and sample request.
Looking for manufacturers/factories in Vietnam? We will identify as many factories who match your requirements as you need.
Using our large network of suppliers, we will provide you with a standard profile of the factories with all the necessary contact details (first name, last name, phone #, email and website) so that you can communicate directly with them. We are able to assist if there are any communication problems. We guarantee that the factory is capable of making your product.
We can't guarantee:
1. Price
2. Quality
3. Deliver dates
4. Payment terms
5. Capacity
6. Personality matching
We aim to be the best sourcing company in Vietnam.
We are happy to arrange for you to visit the factories and escort you during the visits for guidance and translation.
If travel is required airline/taxi/lodging costs, we will give you an estimation beforehand.
i. If in HCMC then car and translator are included
ii. If outside HCMC then only translator is included
iii. If outside HCMC then customer pays for all transportation
iv. We can visit 3 to 4 factories per day if in HCMC.

We aim to be the best sourcing company in Vietnam.
Costing (get a price quote)
We will work with the factory to get the most competitive prices based on your specifications.
We will not involve you in the whole process but it will be transparent.
You will then deal directly with the supplier when you do the final order negotiation/confirmation.
We will require a target price to allow us to yield better results.
i. Customer must provide tech pack
ii. Customer must provide target price
iii. We must confirm tech pack is professional and complete
iv. Sourcing company in Vietnam will work with the factory on customer's behalf to get initial pricing.
Merchandise & Samples development
We can manage sampling, approvals, production planning, shipping documentation and more.
We believe you can perform this more effectively by yourself, but we can provide this service if you wish.
Cost is negotiable and depends on specific requirements.
i. You must provide tech pack
ii. We will suggest available fabric, trims, accessories and design improvements.
iii. We will manage sampling, sample shipping and approvals.
Contact us
to discuss further.
We aspire to be the best sourcing company in Vietnam.
Quality Control Inspections
We have a team of experienced QA and QC.
Depending on the reliability of the factory we recommend adapted inspection processes.

Typically we recommend a 3-step process:

A. Pre-production meeting: when the production green light is given and all components are in the factory, before starting cutting, we will meet with the factory key players (management, departments leaders and factory QC).
We will check if components in house are conform; we check if all technical information is unambiguous and clearly understood (if not we take necessary steps to clarify), we do a risk assessment where we identify the manufacturing operations that are likely to cause quality concerns and we take preventive measures with the factory to control these operations; and we check the production plan to ensure the due shipment date can be met.

B. In-line inspection:

Depending on order size and inspection results we perform one or more inspections when the production is ongoing.
Ideally we perform the 1st inline when the first pieces are completed. We will scrutinize the first finished goods as well as each manufacturing operation.
We also audit the factory internal QC process.
We make sure the supplier take corrective action when flaws are found to avoid recurring defects.
If the quality is not satisfactory, we will return day after day till we are satisfied, but this extra cost should be supported by the factory.
Depending on order size and risk we will perform additional inline insurrections when 25% and/or 50% of the order is completed.

Rest assured that during inline inspection stage, the inspectors at Vietnam Insider sourcing company in Vietnam randomly inspect the various stages of production as well as finishing and packing based on AQL method and report the findings. In the final stage, the inspectors (based on AQL system) check packed goods and verify all aspects of quality before shipment.


C. Final inspection (or pre-final in case another independent inspection is carried out):
When all goods are packed and ready for shipment we perform a random AQL inspection to assess the actual quality level of the goods.

All inspections findings are reported in English with pictures either in a format you supply or in our standard comprehensive format.

Cost: based on man-day with decreasing fees when increasing the frequency.

250$ per man-day for occasional inspections; 200$ per man-day if we perform on average 8 inspections per month
150$ per man-day if we perform over 12 inspections per month.

Once we reach over 12 inspections per month we can switch over to a fixed price per piece covering all inspections from pp-meeting to final.

NOTE: if the factory is very remote we might need to add transport costs. But we will inform you about this when introducing the factory.

Wasn't Peter Drucker, the American author and educator, correct when he said "quality in a service or product is not what you put into it. It is what the customer gets out of it."

If there is anything that makes any customer satisfied, it is 'quality'. We do assessment and re-assessment not just on compliance but also on quality and efficiency. It is always quality that brings money for an organization.
We perform audit visits to the factories to evaluate the level of social & environmental compliance. We produce a comprehensive report with pictures aa well as a CAP (corrective action plan).

We perform compliance assessments of the factory you choose to evaluate the level of social & environmental compliance. We produce a comprehensive report with pictures as well as a CAP (corrective action plan).
We give legal, logistical and business advice for investors who want to setup a factory or buying office or conduct any other activities in South East Asia. Cost will be negotiated based on your requirements.
Hosting (rent a desk in our office)
Are you looking for an interim solution to test the waters before committing to opening an office in Vietnam? Or, do you want to setup your team in an active environment with access to an existing network without the hassle of finding a place to rent?

Desks will be in a shared or private space.

Price includes basic office facilities: utilities, air conditioning, shared meeting room, shared kitchen, security, parking for staff, basic furniture.


We aim to be the best sourcing company in Vietnam.
Our tech pack creation service does not include design.
1. Basic tech pack
For basic garments like t-shirt, polo-shirts, jeans, mens dress shirt, simple dress
We will offer three (03) 30 minute Skype calls to get information
First Skype Call: review questionnaire
Second Skype Call: confirm version1 and get feedback
Third Skype Call: confirm version 2 and get feedback
Tech Pack delivered in Excel
2. Advanced tech pack
For advanced garments like formal wear, ski wear, safetywear
We will offer three (03) 30 minute Skype calls to get information
First Skype Call: review questionnaire
Second Skype Call: confirm version1 and get feedback
Third Skype Call: confirm version 2 and get feedback
Tech pack delivered in Excel
Frequently Asked Questions
Do you have a business plan written?
How much is your initial investment capital?
Do you have a tech pack or technical drawings made up for your product?
Are able to produce more than 2,000 pieces per style?
Do you know your import duty costs and shipping fees?
Are you ready to contact factories to get price quotes?
Do you need consultation from a sourcing company in Vietnam?
Are able to travel to Vietnam and see the factory with your own eyes?
The cheapest and fastest way we can help you is to recommend Chris's book called
Guide to Producing Garments in Vietnam
. Chris becomes a Vietnam sourcing expert and the book is full of insider knowledge, tips and referrals based on his 10+ years of experience working in the Vietnam garment industry. You can read the book at your own convenience and use it as a long term reference. You can opt to buy it either on Amazon, Kobo, iBooks or on buy it directly on our website for $US 9.99.
Email:
[email protected]
Skype ID:

chris36walker
Mailing Address:
Hoang Anh Gia Lai Riverside
Block A Apt. 01-03
37 Nguyen Van Huong
Thao Dien, Quan 2, Ho Chi Minh 700000
Phone: +84 902 570 313