Leather Prototype Workshop in Vietnam
Welcome to the realm of boundless leathering possibilities! I am Chris, join me on an journey through the vibrant streets of Ho Chi Minh City, Vietnam. Since 2008, my mind has been focused with a passion for the sourcing industry. How may I help you? Are you ready to embark on an extraordinary voyage into the world of overseas manufacturing? 🇻🇳

Let me unveil the depths of my network. I have immersed myself in the art of garment manufacturing and embarked on endeavors across hats, bags, shoes, wallets, plastic injection molding, metal parts, furniture, ceramics, and beyond. But let us focus our fiery gaze on a realm that ignites the very core of my being: the awe-inspiring leather prototype workshop.

Imagine the sheer passion of bringing your creative visions to life,
walking alongside skilled artisans who transform your dreams into tangible masterpieces. The leather prototype workshop is where imagination takes flight, where every stitch and every detail is meticulously crafted with ardor. Are you prepared to unleash your passion and delve into this captivating world?
Now, let the embers of your enthusiasm burn brightly!
Would you dare to immerse yourself in the fiery depths of the leather prototype workshop, collaborating directly with artisans to shape your ideas into reality? Or do you seek the guidance of a passionate agent, someone who can stoke the flames of creativity on your behalf? Fear not, for I am here to offer comprehensive services, including introductions to esteemed leather prototype workshops and immersive tours, where your passion will find its perfect muse.
Harness the power of your passion!
Schedule a call, and together we will fan the flames, delving into the intricate details of your aspirations. With an unwavering spirit, I shall guide you through the landscape of Vietnamese manufacturing, ensuring that your journey resonates with the deepest depths of your passion.
Leather prototype workshop in Vietnam is on your radar.
Should you desire further fuel for your passion or have any other inquiries, do not hesitate to reach out. Let us set the world ablaze with the intensity of your journey into Vietnamese manufacturing!
🍀
Chat Mate is a leather bag sample room located in HCM city with a comfortable and welcoming mindset. Tram Le is in charge and she has been making leather bags for local designs since 2016. She invites leather designers to her sampling studio with the dream that in the future she will work with famous artist and retail brands in the world. She and her clients have created incredible products with passion that you can "feel" when you wear or carry them with you.

The main purpose of the sample room is to create a co-working design community. She gives access to fashion brands, clients, and suppliers to her machinery and their operators. She is developing her own brand called Chat Mate and therefore knows what it takes to be a leather designer and get products to market. She can make samples, source production, control quality and ship for you.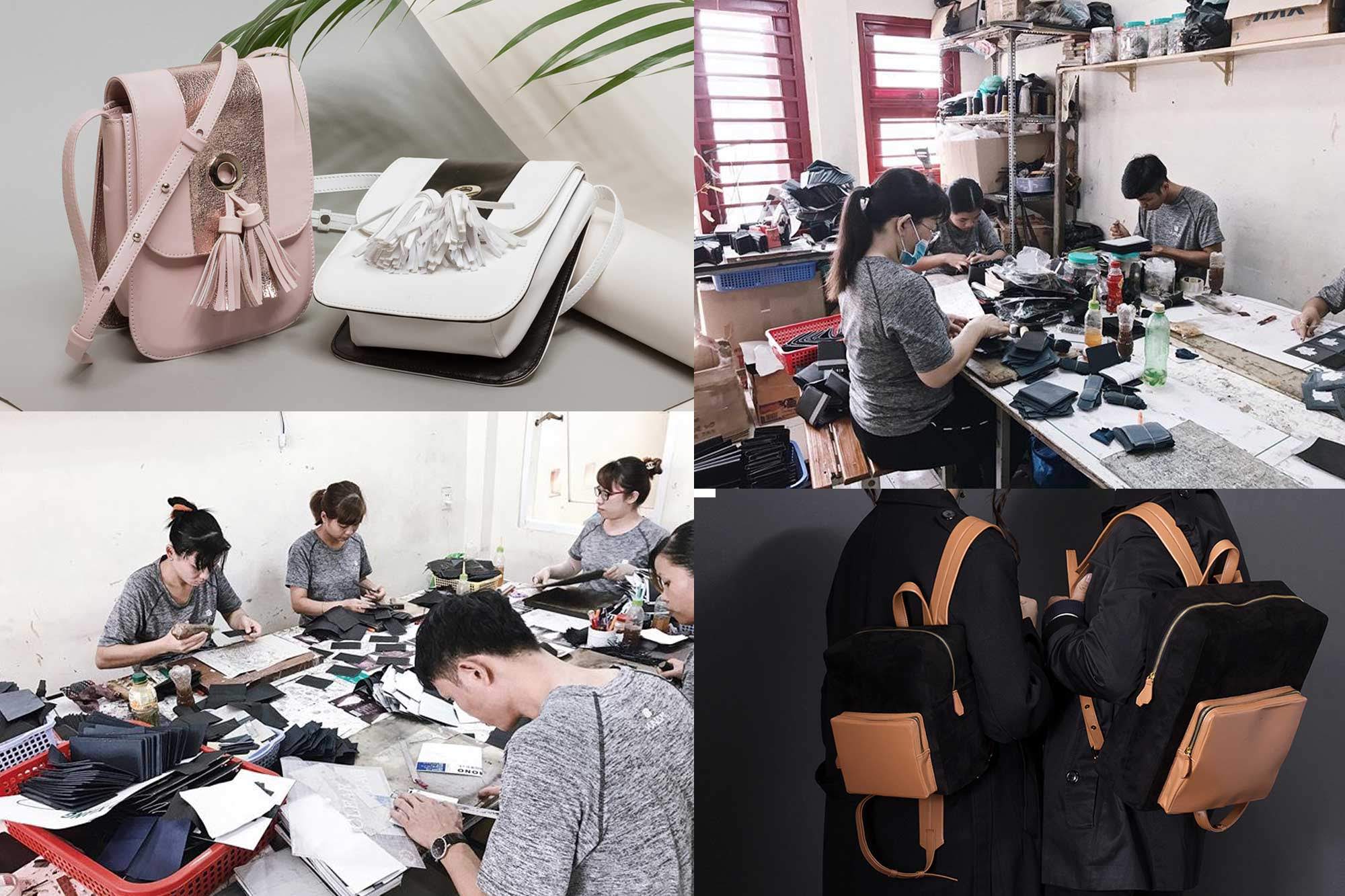 Let's talk about growing your business by manufacturing in Vietnam. This page is about leather product manufacturing in Vietnam. One of my good friends is an expert in this field.

I offer services like factory introductions, factory visits and quality control. I find the right factories fast for you in Vietnam.

Do you have an idea and a real design but you do not know where to get started with a prototype and finally, production?

You may feel frustrated about the time that you must wait until you see the first physical interpretation of what we have in mind. Getting a physical prototype with which you can easily work, write on and amend is highly appreciated by the creative team of a particular project. For some industries it might be difficult to find an inexpensive material with similar aspect and behaviour to the material that will be finally used for making the product. Prototype making saves time and money and favours the development of positive and productive experiences between designers and manufacturers.

We have a team skilled leather professionals can help design and improve your product. Whether you have an idea and we need to work from scratch or if you already have a product that needs improvement, don't hesitate to contact us (details below).

Our leather prototyping and leather production method is clear and simple; we discuss the product and price, make a design and produce a sample that fits your requirements. Generally, for this activity we are provided with the technical data sheet requirements with textiles, accessories, covers and other details.

After the final sample, the leather, lining and filler phase follows through the automated cutting and/or with the use of column shearing machines.

We produce all sorts of leather goods starting from small amounts to large scale orders. Our clients benefit from our other production work and leather buying. Wether you want to start small or need a bigger production, we are here for you!
Please give me details about your background and manufacturing objectives.

1. Which styles do you want to manufacture first?
2. Do you have tech packs?
3. Do you have any special factory requirements?
4. Have you produced before? If yes, then in what country?
5. What quantity per style per color do you order?
6. Does your company have a website?
7. Do you want to work with an agent or directly with the factory?
8. Do you plan to visit Vietnam?